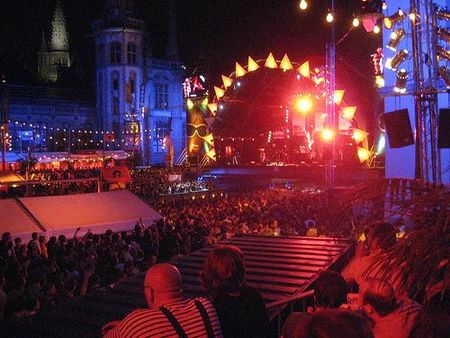 Vendredi 23 juillet, la Ocho se produit pour la première fois à Gand (Gent) dans le cadre du festival Polé Polé - Gentse Feesten (fêtes de la ville de Gand) !
Pour ceux qui ne connaissent pas ce festival, sachez que Polé Polé se targue d'être le seul festival flottant d'Europe !
180 000 visiteurs par an, 10 jours de concerts, environ 60 groupes !
Les photos officielles sont sur Flickr




Saturday 17 July 2010
Sunday 18 July 2010
Monday 19 July 2010
Tuesday 20 July 2010
Wednesday 21 July 2010
Thursday 22 July 2010
Friday 23 July 2010
Saturday 24 July 2010
Sunday 25 July 2010
Monday 26 July 2010


Une organisation impeccable à notre arrivée, avec dans un périmètre de moins de 100 mètres autour de la scène, parking artistes, loges prêtes, hôtel 4 * (Marriott), restaurant artistes dont la sono joue Sigue! à notre arrivée !

La Ocho joue à 22h30, après un super groupe de ska espagnol (Dinamo)...Pas de balance et on attaque direct le concert avec une petite pensée pour nos amis de Salsa Celtica qui jouent exactement au même moment sur la scène de Tempo Latino ! Le fantastique Seb au trombone 1 et l'imperturbable Skyb à la basse !!
La Ocho sur une scène face au canal et avec des milliers de spectateurs massés sur les berges, et dans des barges sur le canal !
Une demi-heure après notre sortie de scène, nous recevons le DVD du concert (des extraits seront bientôt sur youtube) !!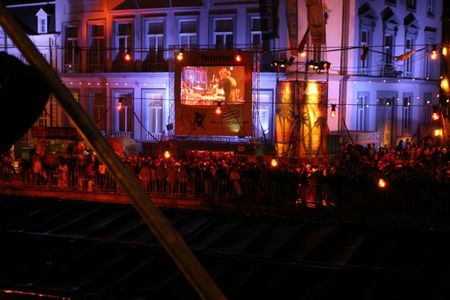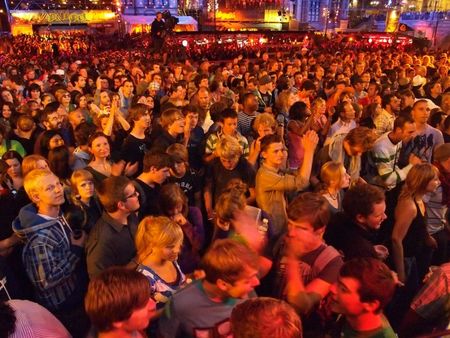 Et voici quelques unes des photos officielles du site polepole.be :
...and Big Up from Ocho to Pole Pole team, especially Roel and Els (our linecheck instructors) and not forgetting Zjef, my tour management student ;-))
A crazy concept in the historic city of Ghent. A floating village festival, 40 live bands and the audience on the water. The best of pop, Latin and world in a mad scene.
And of course, the legendary after-parties with the scratch of national and international top DJs.

This year featuring : Pannonia All Stars, Chico Trujillo, The Glimmers, The Kids Kuni, Galaxie Disco, Motown Supremacy, Dinamo, Ocho y Media, 1060, Orquestra do Fuba, Tio Pepe & the Bordellos, Omar, Postman, TLP